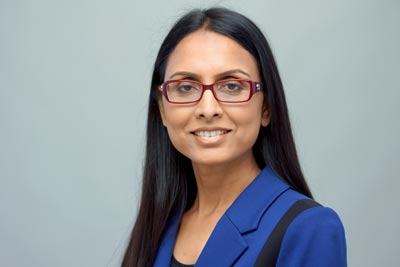 Dr. Sonika Gupta is a board certified Endocrinologist. She received her medical degree in Shimla, India, and completed Internal Medicine residency training at Medical College of Wisconsin, Milwaukee. She worked as a hospitalist in diverse hospital settings before moving on to fellowship in Endocrinology, Diabetes, and Metabolism at the University of Texas Health Science Center in San Antonio, Texas.
Dr. Gupta enjoys seeing patients in the hospital, as well as her office, and is able to offer continuity of care to her patients. She is the sole Endocrinologist at Methodist Specialty and Transplant Hospital, the country's largest live donor kidney transplant program. She has extensive experience in providing endocrine care to living and deceased donor kidney, liver, and other solid organ transplant recipients.
She is well-recognized by her patients for having a kind disposition and a warm bedside manner, which is most noticeable in the care she takes to explain every aspect of their disease and treatment.
Dr. Gupta is an active member of American College of Clinical Endocrinologists, Texas Medical Association, American Thyroid Association, and the Endocrine Society. She lives in San Antonio with her husband and two daughters and loves spending time with family and friends. She particularly enjoys volunteering for teaching Hindi to kindergartners and first graders.